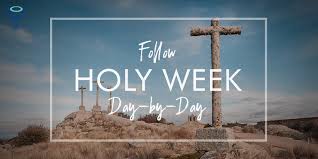 Step-by-Step with Jesus:
A Holy Week Timeline
The last week in the life of Jesus here on earth is often referred to as the Holy week. The week leading up to His death, burial and resurrection is a special time of the year when Christians across the globe prepare mentally and spiritually to celebrate Christ's sacrifice and ultimate defeat of sin and death on Easter Sunday. What a blessing and privilege it is for us to be such celebrants this week! Here is a timeline of events of the Holy week according to the Gospels.
Sunday
On the Sunday before his death, Jesus began his trip to Jerusalem, knowing that soon he would lay down his life for our sins. The crowds welcomed him by waving palm branches in the air and shouting, "Hosanna to the Son of David! Blessed is he who comes in the name of the Lord! Hosanna in the highest!". When Jesus saw the city, He wept.
Jesus' triumphal entry is recorded in Matthew 21:1-11, Mark 11:1-11, Luke 19:28-44, and John 12:12-19.
Monday
The following morning, Jesus returned with his disciples to Jerusalem. Along the way, he cursed a fig tree because it had failed to bear fruit. When Jesus arrived at the Temple, he found the courts full of corrupt money changers. He began overturning their tables and clearing the Temple, saying, "The Scriptures declare, 'My Temple will be a house of prayer,' but you have turned it into a den of thieves" (Luke 19:46).
Monday's events are recorded in Matthew 21:12–22, Mark 11:15–19, Luke 19:45-48, and John 2:13-17.
Tuesday
The tumultuous events of Tuesday and the Olivet Discourse are recorded in Matthew 21:23–24:51, Mark 11:20–13:37, Luke 20:1–21:36, and John 12:20–38.
Wednesday
The Bible doesn't say what the Lord did on the Wednesday of Passion Week. Scholars speculate that after two exhausting days in Jerusalem, Jesus and his disciples spent this day resting in Bethany in anticipation of the Passover.
Thursday – Passover and Last Supper
Late that evening in Gethsemane, Jesus was betrayed with a kiss by Judas Iscariot and arrested by the Sanhedrin. He was taken to the home of Caiaphas, the High Priest, where the whole council had gathered to begin making their case against Jesus.
Meanwhile, in the early morning hours, as Jesus' trial was getting underway, Peter denied
knowing his Master three times before the rooster crowed.
Thursday's events are recorded in Matthew 26:17–75, Mark 14:12-72, Luke 22:7-62, and John 13:1-38.
Friday– Trial, Crucifixion, Death, and Burial on Good Friday
Friday's events are recorded in Matthew 27:1-62, Mark 15:1-47, Luke 22:63-23:56, and John 18:28-19:37
Saturday
Guards are sent to keep watch at the tomb because they remember Jesus' words: "After three days I will rise again." Matthew 27:63
Saturday's events are recorded in Matthew 27:62-66, Mark 16:1, Luke 23:56, and John 19:40.
Resurrection Sunday
On the day of his resurrection, Jesus Christ made at least five appearances. Mark's Gospel says the first person to see him was Mary Magdalene. Jesus also appeared to Peter, to the two disciples on the road to Emmaus, and later that day to all of the disciples except Thomas, while they were gathered in the Upper Room.
Sunday's events are recorded in Matthew 28:1-13, Mark 16:1-14, Luke 24:1-49, and John 20:1-23.
Jesus' work on the cross was for YOU and for me. Our sins are forgiven as we believe in Him. He conquered death, both spiritually and physically, securing our eternal salvation. Let His story burn in your heart this Easter and inspire you to share the Good News!