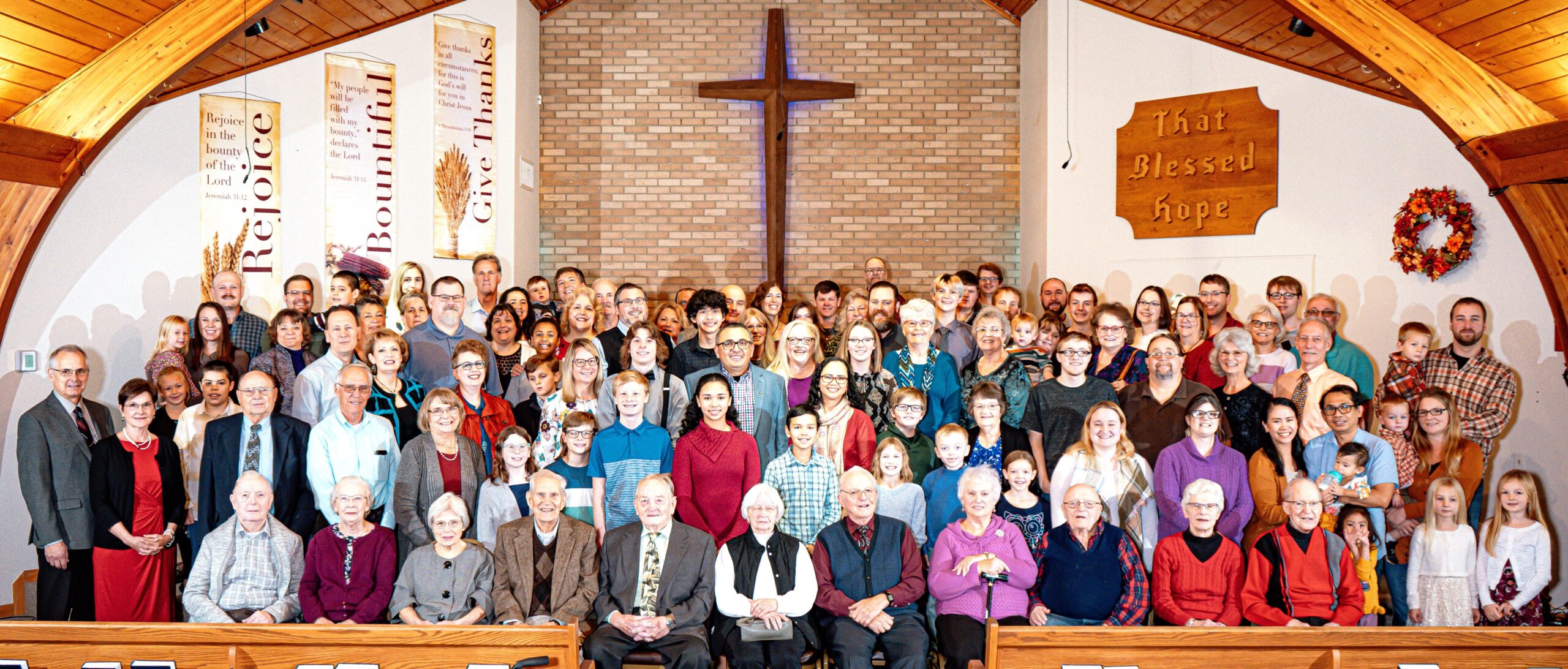 WHO WE ARE AND WHAT WE BELIEVE
We are a church that loves God and people. (Mark 12:30,31)
We are sinners saved by grace through faith (Ephesians 2:8,9) enjoying the privilege of being part of God's family (John 1:12).
We teach and preach the Gospel of Jesus Christ without apology (2 Timothy 4:1-4)
We are a part of the G.A.R.B.C. (General Association of Regular Baptist Churches) www.garbc.org.
WE CARE, COME AND SEE…..
STATEMENT OF FAITH
BIBLE — We believe in the entire Bible as verbally inspired of God, and inerrant in the original writings, and that it is of supreme and final authority in faith and practice. II Tim. 3:16; II Pete, 1:20-21
TRINITY — We believe in one God, eternally existing in three persons: Father, Son and Holy Ghost. I Cor. 8:6, I John 5:7, John 1:1-2, John 14:16-17, John 14:26
JESUS CHRIST — We believe that Jesus Christ as conceived by the Holy spirit, and born of the Virgin Mary, and is true God and true man. Gen. 3:15, Isaiah 7:14, Matt. 1:18-25, Luke 1:35, John 1:14.
We also believe that Jesus is the WAY, THE TRUTH AND THE LIFE and no one comes to the Father except through Him (John 14:6)
MAN — We believe that man was created in the image of God, and he sinned and thus brought upon himself both physical death and spiritual death, which is separation from God, and that all persons are born totally depraved sinners. Gen. 3:1-6, Gen. 3:24, Rom. 3:10-19, Rom. 3:23
ATONEMENT — We believe that the Lord Jesus Christ died for our sins and in our place according to the Scriptures, and that all who receive Him as personal Savior are justified on the grounds of His shed blood. John 3:16, Eph. 2:8-9, Rom. 3:24-26, Rom. 5:1, Rom. 5:9
SALVATION — We believe that all who receive by faith the Lord Jesus Christ are born again of the Holy Spirit and that there is no other way provided whereby they may become children of God. John 3:3, Rom. 6:23, II Cor. 5:17, Eph. 2:1, Eph. 2:5-10, I John 5:11-13
RESURRECTION OF CHRIST — We believe in the resurrection of Christ of the crucified body of our Lord, in His ascension into heaven, and His present work there for us as High Priest and Advocate. Matt. 28:6-7, Acts 1:9-11, I Tim. 2:5, Heb. 8:6
RETURN — We believe in that "Blessed Hope" that our Lord and Savior, Jesus Christ, will return in person, and that this return may take place at any moment. Phil. 3:20-21, I Thess. 4:13-18, Titus 2:13.
RESURRECTION OF MANKIND — We believe in the bodily resurrection of the just and the unjust, the everlasting conscious joy of the saved, and the everlasting conscious punishment of the lost. Luke 16:19-31, I Cor. 15:42-44, II Cor. 5:10-11, Rev. 19:11-16, Rev. 20:11-15
ORDINANCES — We believe that there are two church ordinances, Baptism and the Lord's Supper. Baptism is the immersion of the believer in the water and is properly called "Believer's Baptism." It sets forth in a beautiful and solemn way our faith in a crucified, buried and risen Savior, with its effect in our lives of death to sin and resurrection to a new life. The Lord's Supper is the commemoration of the Lord's death until He comes and is for believers. John 3:23, Acts 8:36, Acts 8:38-39, Matt. 3:16, Rom. 6:3-5, I Cor. 11:23-28
Total Visits:279 Today: 1